Cone Beam Volumetric Imaging in Dental, Oral and Maxillofacial Medicine:
Fundamentals, Diagnostics, and Treatment Planning, Second Edition
Neugebauer, Jörg; Zöller, Joachim: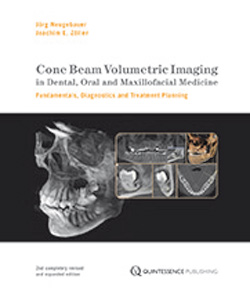 Cone beam volumetric imaging (CBVI) has become an indispensable part of dentistry. Quintessence's standard reference book on CBVI has been completely revised in order to keep up with the plethora of new developments. This Second Edition is now available in atlas format with large-sized illustrations. This comprehensive work serves as a daily reference for the interpretation of CBVI images and is intended as a reference guide for test preparation for the CBVI certification exam.
London: Quintessence Books; 2014. 288pp; 523 illustrations. ISBN: 978 - 1 - 85097 - 269 - 3